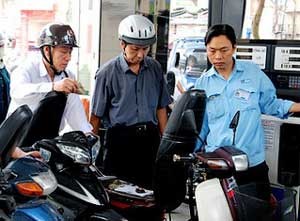 The retail diesel price has decreased to VND11,000 per liter from VND12,000 but the gasoline price stays the same
Vietnam cut retail prices for diesel by 8.3 percent to VND11,000 (about US$0.66) per liter on Wednesday following a Finance Ministry nod to a proposal by local petroleum traders.
The earlier retail price was VND12,000.
Petrolimex and Saigon Petro quoted the new price in the morning, and other companies followed later.
Meanwhile, retail prices for gasoline, kerosene and mazut (a heavy, low quality fuel oil) remain the same.
In the world market, the oil price has dropped below US$40 per barrel.