In the past eight years, Nguyen Van Huong Scholarship of the Sai Gon Giai Phong Newspaper has made great contributions to help medical students. The receivers of this annual scholarship are good examples of outstanding people with extraordinary determination to overcome hardship in the academic endeavor.

Saving money to cure mother

We came to Thanh's house when it was nearly 9 p.m. The little house in Linh Tay Ward, Thu Duc District was totally quiet. A neighbor told us that Thanh's mother was still working over-time at her factory, and Thanh was busy with her tutoring job until 10 p.m.

Nguyen Dinh Thanh Thanh (Ho Chi Minh City Training Center for Health Care Staff) had a very difficult childhood. Her father left her mother when Thanh was only eight. Her mother, a worker, suffering from constant illnesses, brought her up alone. A very simple thing to every child, going to school, seemed not easy to Thanh. However, she has overcome all these difficulties to become an excellent pupil during the twelve years at school.

When she entered university, she was always in the list of outstanding students, eligible for scholarship of Ho Chi Minh City Training Center for Health Care Staff. A small salary of a worker made it very difficult for Thanh's mother to get by, and Thanh has to work hard to support her mother. Getting the scholarship, Thanh said, will enable her to have money for treating her mother's illnesses.

Spending scholarship on paying tuition fees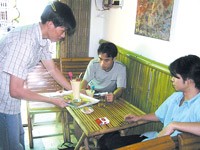 After class, Vu Lam (left) works as a waiter in a café
We were deeply touched when Pham Vu Lam (Pharmacy Faculty, Ho Chi Minh City University of Medicine and Pharmacy) told us about what he had experienced in life. He was born and grew up in a poor remote area of Ninh Thuan Province. His father got cancer when Lam was only in the fourth grade. His family left no stone unturned in a losing battle to cure Lam's father.

With father died, mother sick all the time and three younger brothers, Lam became the breadwinner of the family. He did all the extra jobs to help his mother keep the family going.

When he finished primary school, Lam almost quit school, but he kept on going. Coming to the town for attending secondary school, Lam tried to get part-time jobs to do after class. Lam's struggle, in the meantime, had won the heart of many, including his teacher, Ms.Thanh Nhi, who supported him all the way.

With this help Lam gradually became an excellent student, and was offered a place in  Ho Chi Minh City University of Medicine and Pharmacy. He continued to do part-time jobs to save money for study and his daily expenses. However, he was still unable to afford the tuition fees. When hearing that he was chosen for the scholarship, Lam was so happy and said that he would spend it on paying the fees.

Wishing to be a doctor to cure people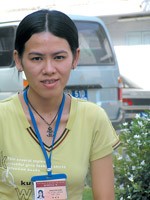 Danh Kim Ngan

Among the receivers of this year's scholarship, Danh Kim Ngan is a Khmer ethnic minority student. She said: "I was so glad to believe it is true. I have just written to my parents to inform them of the news."

Ngan's family, living in Tram Chet Hamlet, Ban Tan Dinh Commune, Rong Gieng District, Kien Giang Province, had many financial difficulties. Her older brother is studying at Ho Chi Minh City Technical Teacher's Training College. Ngan has to do part-time jobs after class such as tutoring or distributing leaf-lets to make ends meet.

Explaining why she chose to study medicine, Ngan said: "As a child, I always dreamt to be a doctor to cure poor people in my homeland, where the sick are really in need of treatment. I want to come back to my homeland after I finish my study to make this dream come true."

 
The 7th granting ceremony of Nguyen Van Huong Scholarship 2006 will be held at 8 p.m March 28, 2006 in the Ho Chi Minh City Opera House. The organizing committee will give scholarships to 30 students of HCMC University of Medicine and Pharmacy and HCMC Training Center for Health Care Staff, 10 underprivileged doctors in remote areas and 5 village midwives.
Related articles:
Scholarship Fosters Medical Talents
Poor Student Becomes Medical School Lecturer