Bac Kenh Dao dike in the Mekong delta province of An Giang was broken on Friday morning ( Oct , 14th ) and flood attacked 2,100 hectares of rice field on the 3rd crop.
Flood water has also brought threats to surrounding rice fields.
It was said that about 40 meter section of the dike running through Vinh Chau Commune in Chau Doc Town collapsed by 9:00 local time and flood water cascaded into rice fields in two communes Vinh Chau and Vinh Te.
As the dike section locates in a deserted area and locals only discovered the incident around four hours later. Until the afternoon of the same day, 250 hectares was submerged under flood water -- the biggest ever damage caused by floods this season.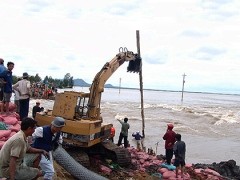 Machines were deployed to rebuild and strengthen a dike in An Giang (Photo: Tuoi Tre)
Local authorities and army units mobilized hundreds of men and joining hand with 1,000 residents to rebuild the dike by bags of sand, trees and metal net.
Vice Director of the Department of Agriculture and Rural Development of An Giang Province Do Vu Hung told reporters that the rescue force were determined that in the early morning of Oct 15 they would repair the broken dike.
In a relevant note, streets in An Giang's Long Xuyen City have become inundated in the last two days for heavy raining and rising tide from local rivers. Streets Tran Hung Dao, Hung Vuong and Ly Thai To have been sunken 0.5 meter under flood water.
In Tan Phu A commune , Tan Binh village, Thanh binh District and in Chau thanh District of another Mekon delta province of Dong Thap, flood also damaged roads and caused landslide of 2,700 square meters, affecting lives and property of thousands of households. Many dikes in the province is under threat of flood as the water is raising day by day.
Up till now, in the province of Dong Thap, more than 16,000 houses have been flooded, the total damage was over VND 850 billion.