Representatives of authorities of Thuan An district, Binh Duong province on Sunday came to Ky Anh district, Ha Tinh province to visit and encourage families of the victims of the accident of Din Ky tourist ship on the Saigon river on May 20.
Representatives of Din Ky company also visited and handed VND40 miilion (US$2,000 ) to Mr Tran Trong Chinh, 74 years old in Ha Tinh province. Mr Chinh had 9 relatives ( his wife, sons, daughters, grand sons and grand daughters ) who died of drowning in the sunken ship.
Also Sunday, the representatives of four Chinese victims and Din Ky business held meeting discussing about the ways to compensate for the death of the Chinese citizents.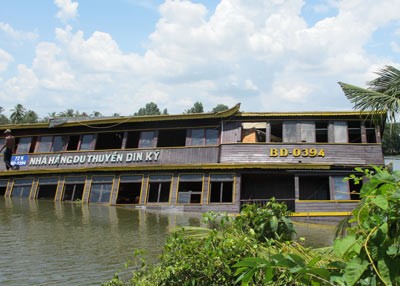 The salvaged double-decker restaurant ship in Din Ky Tourist Area in Binh Duong Province near Ho Chi Minh City
After the accident of the cruise boat on May 20, Binh Duong Province's Transport Department yesterday forced the closing down of Din Ky Restaurant Private Enterprise's unlicensed quays and floating restaurant and suspended its hotel ship.
The department ordered Din Ky to dismantle its quay in Binh Nham Commune in Thuan An Town, where the Din Ky floating restaurant travelled to the middle of Sai gon river on May 20 despite bad weather and later sank, killing 16 passengers.
Two other quays in Din Ky's Vinh Phu and Thanh Canh tourist sites must also be suspended for safety reasons.
Din Ky company's 2-storey Din Ky Cruise Ship Hotel is also suspended for falling short of river way transport safety regulations.