Foreign charity organizations have given a house to Da Nang City's Association for Agent Orange Victims to facilitate the association's activities.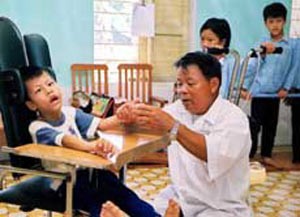 A young Agent Orange victim is taken care of by a volunteer

The house is located at K111/12 Quang Trung Street in Da Nang. Ms. Lise Thibault contributed US$43,000 and two Canada-based charities, Fondation Formons une Famille and Societe Formons une Famille, donated US$10,000 each to the project.

The association will also receive US$15,000 from the Formons une Famille each year as financial aid.

Around 4.8 million Vietnamese were exposed to dioxin with over 3 million of them eventually becoming developing symptoms, according to the Viet Nam Association of Victims of Agent Orange/Dioxin.

Most of them have been diagnosed with cancer. Their children suffer from deformities due to their parents' exposure to the toxic chemical.