Although relevant departments have cracked down on smuggling of unsafe food items into the country, some callous food distributers continue to import and flood the market with various kinds of 'dirty food'.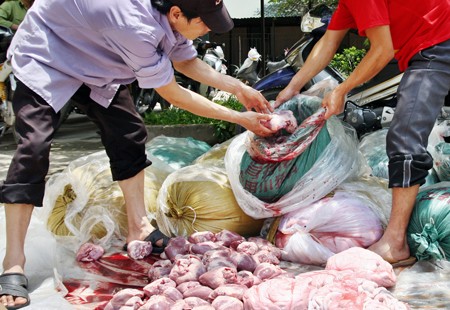 Market managers in the northern province of Lao Cao seize bags of illegally trafficked animal viscera. (Photo:SGGP)
Towards the end of the year, the sleepy and quiet towns along the Lang Son border resound with the roar of hundreds of motorbikes and trucks everyday carrying tons of food items to deliver to agencies across the country.
One man from Dong Dang town of Lang Son Province said that from mid-afternoon till night time is peak time for smugglers to operate as not many anti-smuggling forces are at work.
Many kinds of goods are smuggled into Vietnam through border areas each year but this year food items seem to be much in demand, more than previous years.
Foods such as chicken, meat, eggs and animal viscera are being smuggled into Vietnam. Price of animal viscera is very cheap and resources abundant.
Unsafe food is being smuggled not only through the Lang Son border but also via Lao Cai, Mong Cai and Quang Ninh borders.
Most foods smuggled into Vietnam have no markings of origin, expiry date or quarantine period, posing a serious threat to human health.
Callous food distributors even resort to adding hazardous substances like artificial sweetener cyclamate, detergent or urea, to processed meat, blood pudding or sweetened porridge, to preserve items longer and improve taste.
With a few kinds of detergents and flavors, people can make rotten pork into fresh pork and even turn it into venison easily and quickly. After washing or soaking the poor quality pork in a special detergent, processors blend it with a certain flavoring to make it into meat from cow, deer, weasel or any other animal product. The product is then dried at different temperatures to make it tougher and then mixed with essence of venison.
Late last month, the environment police in Hanoi caught a truck carrying tons of animal organs smuggled illegally through the Tan Ap border.
Police in Lang Son Province also found three tons of meat brought in illegally from China though Lang Son border.
Police say the numbers of smuggling cases caught are few compared to one's that get away. Many traders just chase profits by selling unsafe foods, regardless of cost to human health.
Many small manufacturers used industrial additives instead of food additives to reduce costs, ignoring the fact that they contain a high dosage of impurities and heavy metals.
This October, the anti-environment crime police in Dong Nai Province caught an unlicensed meat processor soaking 300 kg of buffalo and cow organs in a chemical solution to bleach it before selling in the market.
Following a tip-off from the public, a police team raided a meat processing establishment in Long Binh Ward of Bien Hoa City, early yesterday morning and found five workers processing about 700 kg of buffalo and cow organs. The workers had already soaked 300 kg into a bleaching tank filled with a chemical solution.
The owner, Tran Hoang Vu, failed to produce a business license and documents to identify the chemical, the police said.
Similar cases have been recently uncovered in some provinces, in which dishonest meat processors were caught using detergents and chemical flavors to process rotten pork into fresh stock or even change it into highly-priced venison, easily and quickly.