An estimated 651,000 disadvantaged people will receive more assistance from the community this year. That's the aim of a campaign launched by the Vietnam Red Cross Society in Ha Noi on May 4.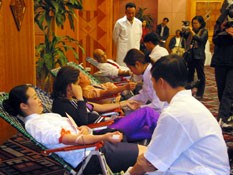 The youth donates blood in a campaign for poor patients in Ho Chi Minh city.
The campaign is entitled "each organization, each individual helps one humanitarian address." State Vice President Nguyen Thi Doan has called on organizations, agencies and benefactors in society to jointly take action to help disadvantaged people.
She stressed that the campaign represents Viet Nam's tradition of, "Love your neighbor as yourself." The campaign is a practical initiative to celebrate the 118th anniversary of the birth of President Ho Chi Minh (May 19) and the 145th anniversary of the International Red Cross and Red Crescent (May 8).
The assistance may be cash donations, capital for business start-up or free medical treatment.