The Government recently repeated its request to the Civil Aviation Administration of Vietnam (CAAV) to meet an author of a project to open a Hanoi-HCM City air route along the 106th meridian and decide if the route is feasible.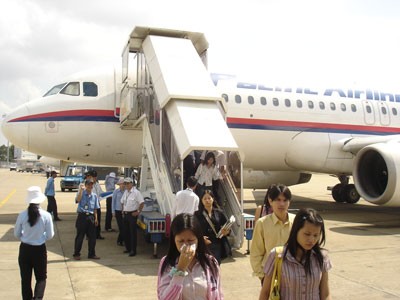 If the new route is exploited, it will help save oil, time and expense for airline passengers (Photo; VH)
The project was planned by Mai Trong Tuan, a former military pilot, in 1983, which envisioned many advantages and economical efficiency, yet the CAAV has officially refused to open the air route along the 106th meridian, citing many reasons, including difficulties in management and it not being the right time.
Le Trong Sanh, former head of  Flight Operations, supported the project, saying that the sooner it is carried out the better, although CAAV replied that the opening of a direct air route from Hanoi to HCM City along the 106th meridian would not be 'technically reasonable' nor economically efficient.
The opening of the route brings benefit to not only Vietnam but to the neighboring countries of Laos and Cambodia, he added.
He continued that flight times would be shortened by ten minutes and fuel would be saved, thereby reducing pollution and improving flight safety.
The air route from Hanoi to HCM City along the 106th meridian will also be serviced by spare airfields in the event of problems.
Moreover, he added, international flights across our airspace must pay fees which bring the country a relatively big benefit.
Vo Van Tuan, a former army pilot, said all flights from Noi Bai Airport to the South should fly through the northern province of Ninh Binh, as the province lies on the 106th meridian.
Currently, all domestic flights from Ninh Binh to Vinh Airport are 48 kilometers away from the Tho Xuan military airport, while the new route is just 57 kilometers away; hence, would barely affect the country's security.
Furthermore, the distance of the new route would be shortened by 200 kilometers compared to the current routes, as planes keep within Vietnam airspace and have to fly to eastward rather than flying direct over Cambodia and Laos.