Porcine Reproductive and Respiratory Syndrome Virus, also called blue ear, is spreading among the pigs in central Viet Nam, and the Minister of Agriculture and Rural Development Cao Duc Phat has responded by ordering that all infected be quarantined, public awareness of the disease be raised, and farmers taught how to detect the symptoms.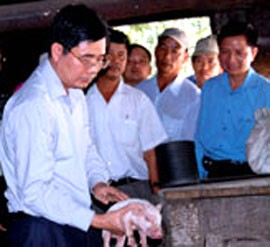 Mr. Phat ( wearing glasses) inspects diseased pigs in Thang Binh District in Quang Nam province
With the outbreaks in Quang Nam, Quang Ngai and Da Nang threatening the entire country, Minister Cao Duc Phat yesterday dispatched his deputy Bui Ba Bong and Department of Animal Health chief Bui Quang Anh to the central region.
Mr. Phat explained that few pig farmers knew about blue ear and how quickly it could spread, which was why the disease was gaining ground so quickly.
The lack of public awareness of blue ear and the occasional smuggling of infected pigs also contributed.
The minister has asked Prime Minister Nguyen Tan Dung for VND10 billion to help the infected provinces and give farmers VND10, 000 per kilo of lost meat by way of compensation.
Yesterday Deputy Minister Bui Ba Bong was shown more than 27,000 infected pigs in Quang Nam and Da Nang.
He ordered a close watch on pig transportation and sales outlets, and told the public to be wary when shopping for pork.