An inspection has been carried out on the A Vuong hydroelectric reservoir in the central province of Quang Nam following recent reports that the company in charge worsened floods caused by Typhoon Ketsana. The Ministry of Agriculture and Rural Development and other relevant agencies conducted the investigation October 16 and held a subsequent meeting to discuss the issue.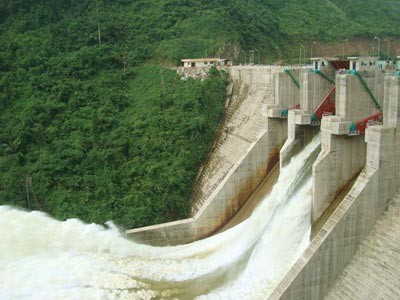 The AVC company is accused of releasing water from its reservoir, worsening floods following Typhoon Ketsana (Photo: Tuoi tre)
Attending the meeting were leaders from the company under investigation – the A Vuong Joint-stock Company (AVC) – representatives from the Ministry of Agriculture and Rural Development, and other related agencies.
Provincial officials blamed the hydroelectric company for releasing excessive water from its reservoir during the recent Typhoon Ketsana floods, heavily submerging the Vu Gia River's floodplains.
AVC was responsible for worsening floods in lowland areas when they released water from the plant, said the provincial Steering Board of Flood and Storm Prevention.
Water flowing from the A Vuong reservoir caused Vu Gia River in Dai Loc District to swell to dangerous levels, exceeding the dangerous warning level by 1.5 m and causing damage to districts in lowland areas along Vu Gia and Thu Bon rivers, a representative from the Steering Board of Flood and Storm Prevention added.
Representatives from the plant denied any wrongdoing. AVC Board Chairman Nguyen Van Le said the reservoir in fact contained much of the floodwater and helped lessen the storm's impact.
Director of the provincial Department of Agriculture and Rural Development, Nguyen Thanh Quang, rejected Le's statement, adding that the company and the steering board had never reached an agreement on releasing water from the reservoirs.
Mr. Quang, however, said that since the province and AVC were at loggerheads about releasing reservoir water, AVC was left with no choice but to act.
This indicated a serious flaw in the management of the hydroelectric reservoirs, he added. Mr. Quang also dismissed the suggestion that the Vu Gia River's floodplains were heavily submerged due to a narrow current caused by waste and wood.
Inspectors will continue investigating the matter, said Tran Quang Hoai, deputy head of the Flood and Storm Prevention and Dyke Protection Agency. In the future, AVC should closely cooperate with the province when releasing water in a bid to reduce damage, Hoai added.