The People's Committee of District 2 in Ho Chi Minh City is about to implement coercive land seizure to Lien Tri Pagoda for construction of Thu Thiem new urban area, said head of the district Compensation and Site Clearance Board Do Quoc Doanh yesterday.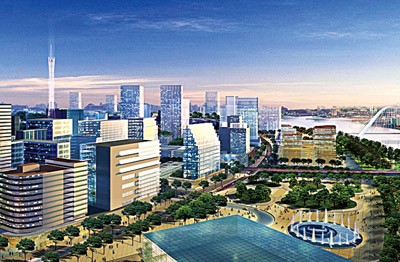 An artist's impression of Thu Thiem new urban area, which is under construction in District 2, HCMC (Photo: SGGP)
The pagoda's area to be cleared away totals 620.64 square meters in An Khanh ward, including 609.75 square meters eligible for compensation and 10.89 square meters ineligible because of encroaching canals.
Before making the decision of coercive land withdrawal, the district People's Committee had many times met Mr. Phan Ngoc An, managing Lien Tri pagoda, to negotiate and convince him to hand over the pagoda space without results.
According to Mr. Doanh, the compensation of the pagoda is VND784.13 million (US$35,000), which the Compensation and Site Clearance Board sent to a banking account on May 7, 2015.
Beside the compensation, Lien Tri pagoda will receive an extra financial assistance of nearly VND1.66 billion (US$74,000) for 414.32 square meters of its main construction work if agreeing the district's relocation policy.
The financial assistance provided by the Vietnam Fatherland Front's Ho Chi Minh City Committee is equivalent to VND4 million per square meter.
Lien Tri pagoda will be relocated over 698.1 square meters in a 50 hectare residential area, Cat Lai ward of the same district. The district People's Committee has built a new establishment in this area to remove properties and funeral urns from the pagoda to.
In addition, the committee has worked out a specific removal plan to ensure safety and legal regulations.
Mr. Nguyen Hoai Nam, chairman of the District 2 People's Committee, said that Thu Thiem new urban area has 24 religious establishments and fork belief places that have executed the development policy of the new urban area by removing and handing over land.
Of these, ten pagodas have been relocated in new spacious establishments in District 2 and come into stable operation. The HCMC People's Committee has also granted them with land use right certificates.