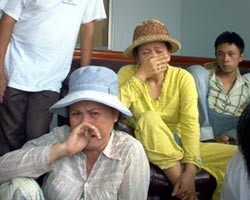 People burst into tears at the bad news of the typhoon Chanchu
Typhoon Chanchu left the lingering sorrow for many fishermen families. Of 18 dead found so far, only 14 were identified and the four remaining bodies were decomposed. DNA testing is being done so that the victims could be identified as soon as possible. Forensic scientist Vo Dinh Thanh talked with Sai Gon Giai Phong (SGGP) reporter on this problem.
SGGP Reporter: Could you explain me the process of identification of the victims?
Mr. Vo Dinh Thanh: Many medical examinations like visual methods or X-rays will be utilized to get the accurate identification of an individual. Especially, some samples in bone, hair, skin, teeth will be taken to have a DNA profiling.
Could you give more details on visual examinations?
Visual examinations means to have a closer look at physical appearance of the dead. Typical features of the body like the height, teeth, malformations, feet, hands will be noticed, which seems to be an easy way to recognize a person.
How about the bodies that could not be identified with visual examinations?
We will use X-ray to have the comparison with blood relations like parents, brothers by birth, etc. In addition, DNA located in bone, teeth, hair, skin… of the victims will be taken to have generic identification.
How can the results of DNA tests be compared to produce the accurate result?
We will take the DNA samples of the victims and their blood relations (two persons at least in one family). Let take the four unidentified dead for instance. After obtaining DNA samples of the four bodies, forensic scientists will take samples of 358 persons of 179 families whose relatives are missing. However, several techniques will be applied in the process of generic fingerprinting to promptly get the accurate results.
Related articles:
More Assistance for Typhoon Victims
Many More Fishermen Bodies Found at Sea
More Broken, Drowned Fishing Ships Found
Search for Typhoon Victims Continues
Over 600 Fishermen Survive Typhoon Chanchu
362 More Typhoon Victims Saved
Assistance for Victims To Overcome Damages of Typhoon
Over VND90 Million Donated to Typhoon Victims
President Tran Duc Luong Sends a Message of Condolence to the Typhoon Chanchu's Victims
State President Tran Duc Luong Sends a Message to Thank Chinese President Hu Jintao
China Rescues 330 Vietnamese Fishermen
Sai Gon Giai Phong Newspaper Raises Funds for Typhoon Chanchu Victims
General Secretary Sends Condolences to Typhoon Victims' Families
Central Vietnam Fishermen Return from Storm
Central Viet Nam's Fishermen Affected Most Seriously