DNA tests will be conducted on bodies of 13 people burned beyond recognition in a fatal accident involving two passenger buses and a truck, which happened yesterday in the south-central province of Binh Thuan.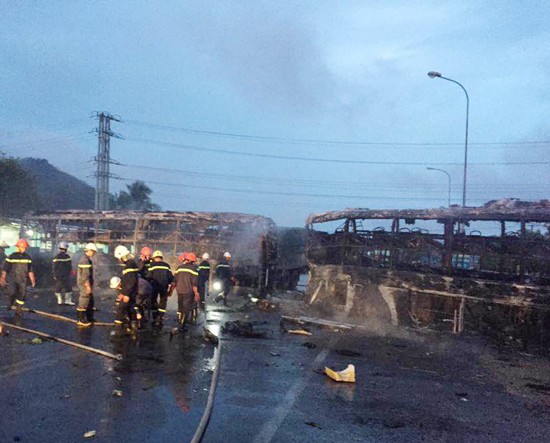 The frame of two vehicles after fiery head-on crash (Photo: SGGP)
A coach of Phuong Trang passenger bus line was travelling from the central province of Quang Ngai to Ho Chi Minh City on National Highway 1 at around 4:15 am, when it collided into another passenger bus running in the opposite direction.
Consequently, both buses burst into flame following the serious head-on collision. 11 passengers died on the spot in the horrific road accident and one died on the way to hospital. At least 40 people got injured in the accident.
Bodies of dead people were kept carefully in the province General Hospital for DNA tests. Deputy head of the Road Department under the Ministry of Public Security Lieutenant colonel Dinh The Anh said that a group of forensic medical workers wiould work on dead people's DNA night round to verify identity.
Party secretary Nguyen Manh Hung and chairman of People's Committee in Binh Thuan Province Nguyen Ngoc Hai soon arrived in the spot to instruct and visited victims in hospitals.
The National Traffic Safety Committee offered VND5 million (US$224) for each family of the deceased victims and VND2 million (US$89.7) for those of the wounded.
Prime Minister Nguyen Xuan Phuc and his deputy Nguyen Hoa Binh who is chairman of the National Traffic Safety Committee sent their condolences to victims' families. Deputy PM Binh ordered the ministries of Public Security, Transport, Health and People's Committee in Binh Thuan Province to do their best to help victims and their families.
Mr. Binh also asked responsible agencies to investigate the cause of the traffic and issue harsh penalties to violators.