A Vietnamese distributor has recently been touting a brand of Taiwanese-made underwear with tourmaline stones in them as offering a miracle cure for several diseases.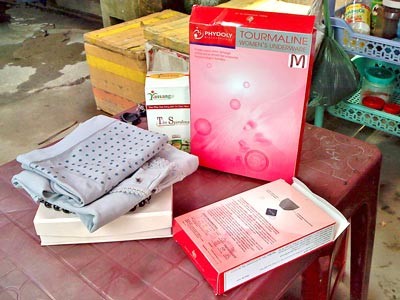 These Tourmaline stone special products are introduced at the company (Photo: SGGP)
Apparently Yahgo Vietnam Trading Ltd Company has several enthusiastic converts among its customers who now want to become dealers for the products but does it truly cure even fatal diseases like liver and cervical cancers?
The Tourmaline brand of bra is made by Best Rita Holding of Taiwan and imported by Quy Xuyen Ltd. Co.
A woman who wanted to be known just as Ms. L. claimed to wear tourmaline products for just two weeks before her goiter and hypotension disappeared. But she said patients must also wear a bracelet and necklace, take spirulina, and wear the bra even when sleeping.
Yahgo employees held forth to customers on the benefits of tourmaline products at its office at 28-34, Street No. 26, District 6.
T.V. Binh, one of the employees, assured a customer without even inquiring about his ailment that it would be better within two weeks if patients use Tourmaline products.
When the patient revealed he has a herniated disc, Mr. Binh claimed the stone can release Far IR magnetic power and Negative ions, and make the body release minerals needed to improve blood circulation.
Herniated discs have gotten better after patients used Tourmaline underpants and wrist-bands, he said. But like Ms. L., he too advised the patient to buy a bracelet, necklace, and spirulina for over VND6 million.
The first floor of the office is crowded with customers and staff. K. Han, another employee, spoke about the benefits of Tourmaline underclothes and bangles. She nodded when someone asked if they could cure cervical cancer.
The company's manual, which costs VND100,000, lists the "benefits" of using the products but not their contents or the origins of the stone. It does not say if the products have been approved by the health authorities, either.