Over 100 documentaries and research books on Hoang Sa (Paracel) and Truong Sa (Spratly) archipelagos and the East Sea (Bien Dong) were introduced in Ho Chi Minh City on January 20 by historian Nguyen Nha, PhD and his partners.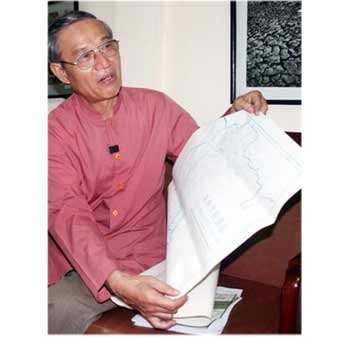 Doctor Nguyen Nha introduces an ancient Vietnamese map.(Photo:TTO)
The scholars hope this collection including materials written in Han scripts, ancient maps and historial documents could offer rich information on the two archipelagos and the East Sea as well as on their role in the country's history.
A website on the collection is to be launched soon, they said.
Very few Vietnamese researchers have studied the role of the two archipelagos or the marine economy from the East Sea, Dr. Nha lamented.
Besides, researches in legal matters and marine law relating to the two archipelagos have rarely been carried out, added Hoang Viet, a lecturer at the Ho Chi Minh Law University and also one of the managers of the collection.
According to a female educator, the academic circles should further their researches in the two archipelagos so that Viet Nam could organize international seminars on the matter from which convincing academic conclusions would be drawn.
Those interested can visit 191/1 D Tran Ke Xuong District, Ward 7, Phu Nhuan District where the precious documents are being kept.