Police in the Mekong Delta Province of Soc Trang are chasing for two dog thieves who shot and killed a man before fleeing away with his animal.
The incident took place in the early morning of Sep 18th . The victim, Duong Van Thanh, 48, living in Thuan Hoa Commune, Chau Thanh District, was shot and died in the Soc Trang clinic later.
The neighbor, Bui Van My told that at 5 am, he saw Thanh lying in his door step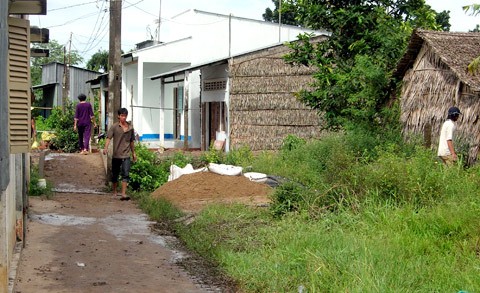 The alley to Thanh's house where he was shot dead by dog thieves
My called the police immediately and Thanh's wife Tran Thi Cam Hong, 30, took her husband to hospital but he died on the way
Hong told them that early Sunday morning, when she and her husband were about to leave home, they saw two men trying to steal their dog. .
Hong said that when they discovered the dog thieves Thanh yelled at the men and one of them pulled out a gun and shot him in the chest.
They then put the dog in a bag and fled. Witnesses said they rode on a motorbike towards neighboring Bac Lieu Province.
Many dogs had been stolen recently in the area but people did not dare report to the authorities for fear of reprisal by thieves, Pham Van Cong , Chairman of the Thuan Hoa Commune people's Committee said.
The police found that the thieves left at the scene a bamboo stick attached to a 5 cm-long pointed metal object connected to an electric wire, the woman reported.
The police have seized the bamboo stick and begun an investigation.