Oversupply and contraband sugar seems to have now crippled the domestic sugar industry.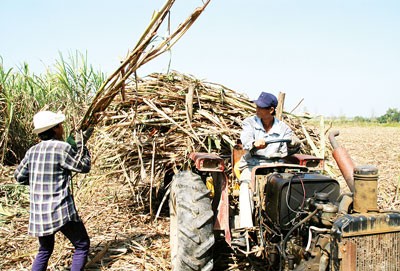 Farmers harvest sugarcanes to deliver to sugar companies (Photo : SGGP)
The Vietnam Sugar Cane Association said the sugarcane sector is expected to produce some 1.6 million tons of sugar this year plus stockpile over 370,000 tons and import around 70,000 tons, totaling around 2 million tons, which exceeds total demand of 600,000 kilograms.

However, due to smuggled sugar of 300,000 tons per year infiltrating the market, oversupply is becoming a serious issue.
Most of the sugar in stockpile is refined sugar for food production.

Oversupply and slow consumption has dragged down prices and domestic sugar price has dropped to only VND15,000 a kg.
Nguyen Thanh Long, Chairman of Vietnam Sugar Cane Association, said firms must buy at VND830,000 to VND850,000 per ton which can bring profits for farmers. With this price, firms have to sell at VND15,000 a kilogram, yet the price is on a downward trend.

Le Xuan Quang, Director of La Nga Sugarcane Company complained that firms must maintain the high prices to keep farmers continue cultivation but companies suffer heavy losses with such high prices.

Do Thanh Liem, Director of Khanh Hoa Sugar Company, said smuggled sugar has hurt the domestic industry as it fetches only VND 12,800 a kilogram. If sugar companies reduce price to compete with smuggled sugar, they are compelled to buy sugarcane at VND700,000 a kilogram, it will result in a larger area of sugarcane cultivation being switched to planting different crops and sugar sector will be on the brink of collapse.

Subbaiah, Director of KPC Company Vietnam, said that with current widespread smuggling of sugar, the government should cut the Value Added Tax down zero percent to this sector; ban on temporary import and re export in order to prevent tax evasion cases.