A Malaysian firm at Formosa Industrial Park in the southern province of Dong Nai's Nhon Trach district has discharged toxic waste into the environment, affirmed deputy chairman of the province People's Committee Vo Van Chanh at a meeting yesterday.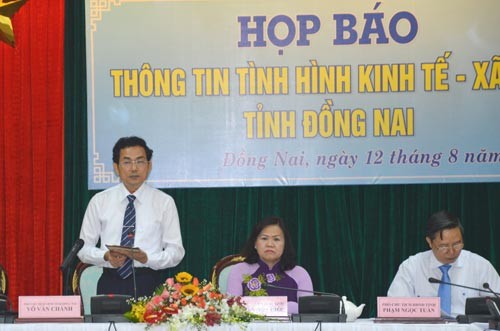 Deputy chairman Vo Van Chanh affirms toxic waste discharge in Formosa Industrial Park, Nhon Trach district, Dong Nai province at a meeting on August 12 (Photo: SGGP)

At the meeting on socioeconomic conditions of the province in the first six months of 2016, Mr. Chanh said that Chin Well Fasteners Vietnam hired a premise of 17 hectares from Hung Nghiep Formosa Company, investor of the industrial park's infrastructure. Of these, the firm has built factories over 10 hectares since 2005.

The company has a waste treatment system where wastewater is treated before being released into the central treatment site of Hung Nghiep Formosa Company with the capacity of 5,000 cubic meters a day. Chin Well has signed contracts with eligible companies to handle solid waste.

However, during an unexpected inspection recently the provincial Police Department and the Department of Natural Resources and Environment found that besides the above waste treatment system, the company has another illegal wastewater release system. In addition, hundreds of cubic meters of waste mud were found dump right in the company's precinct.

Mr. Chanh said that authorized agencies will quickly investigate, analyze waste samples and conduct observations to determine the impact and influence level of the illegal waste dump and release.
Afterwards they will apply measures to mitigate and prevent further influences to the environment and citizens' life.
Hung Nghiep Formosa Company hires land at Nhon Trach 3 industrial park, Nhon Trach district, Dong Nai province since 2001 to establish and exploit Formosa Industrial Park within 50 years.