The People's Committee in the southern province of Dong Nai has proposed to extend Vietnam's first metro route Ben Thanh-Suoi Tien by 4.7 kilometers reaching Vung Tau crossroads in the province, revealed the Ministry of Transport yesterday.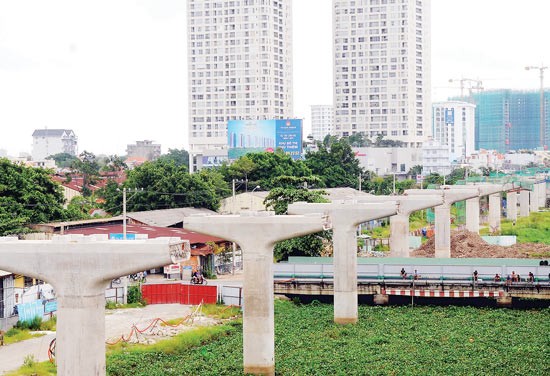 Pillars for the above ground part of the first metro route Ben Thanh-Suoi Tien in HCMC (Photo: SGGP)
According to the committee, there are 29 industrial parks in the province with a large number of workers living in HCMC who regularly travel between the two localities.
Besides the province is located in the eastern gateway of HCMC with heavy traffic density, traffic jam has repeatedly occurred.
Moreover the HCMC development plan by 2020 with vision till 2030 approved by the Prime Minister also refers to study of the first metro route's extension to Sat Market crossroads in Bien Hoa city, Dong Nai province.
Land fund for construction of metro rail and station across Bien Hoa 2 industrial park has already been arranged. Therefore the area in need of site clearance is not large making it advantageous for the project's implementation, said the committee.