The People's Procuracy in Bien Hoa city of the southern province of Dong Nai on Saturday completed indictment prosecuting the owner and steersman of a towboat for collapsing Ghenh Bridge in March last year, disrupting north-south railway for over three months.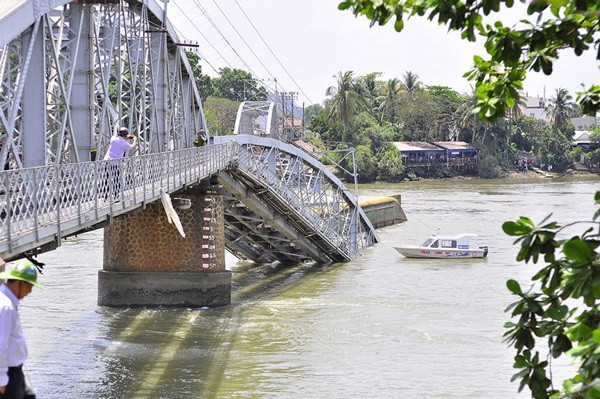 The Ghenh bridge collapse scene in Dong Nai province last year (Photo: SGGP)
63 years old owner Phan The Thuong from HCMC has been charged of assigning an unqualified person to operate waterway means of transport and 36 year old steersman Tran Van Giang from Bac Lieu province for breaking regulations on operation of waterway means of transport.
According to investigation results, Thuong, Giang and Nguyen Van Le from Bac Lieu were on the pusher towing a barge carrying 800 tons of sand from the Mekong Delta to Dong Nai for consumption on March 20, 2016.
 
When the boat arrived at Cat Lai area, District 2, HCMC; Thuong left the boat going ashore to do his private affair and assigned the vehicle's control to Giang who has no boat steering license.
 
The towboat then met with swirling water in Ghenh Bridge area but Giang was inexperienced in handling the situation so he let the boat slam into a bridge's pillar collapsing two spans.
 
Giang and Le jumped into the river, swam ashore and left for their hometown before giving themselves up to the police.
 
The police investigation agency determined that Le present aboard with Giang when the accident occurred was just an assistant so he has not faced criminal prosecution.