The People's Committee of Dong Nai Province has decided to relocate 600 seriously polluting enterprises to industrial parks or to other locations within the province, in an attempt to reduce further pollution of factory waste from flowing into the Dong Nai River.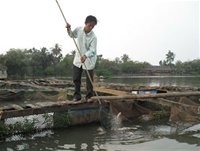 A farmer picks up dead fish in the Cai River, a tributary of the Dong Nai River that is now heavily polluted (Photo:VNA)
The Dong Nai River flows through 12 provinces and is the main water supply source for more than 16 million people living in and along the river basin and for the residents of Ho Chi Minh City.
Over the years, the pollution in the river has risen to alarming levels in the Dong Nai River basin, most of it being caused by waste-water flow from factories.
More than 100 factories in the basin discharge millions of cubic metres of waste-water into the river each day.
Since 2003 Ho Chi Minh City has compiled a list of 1,260 enterprises that are polluting urban areas.
Provincial authorities say that it is now necessary to relocate polluting enterprises and time to take firm action to protect the Dong Nai River in order to save the main water resource and the environment.