The southern province of Dong Nai has asked the Centre to appoint an independent unit to conduct an environment impact study of the Dong Nai 6, 6A hydropower projects, said Nguyen Thanh Tri, deputy director of the provincial People's Committee.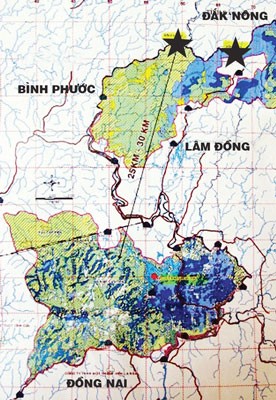 Two black stars mark core area of Cat Tien National Park, where the Dong Nai 6 and 6A plants are being planned (Photo: SGGP)
Earlier, the province has many times sent proposals to the Prime Minister and the National Assembly to halt the two projects.
In an interview with Saigon Giai Phong, Tri, who is also head of the management board of Dong Nai Biosphere Reserve, said that the board had dispatched reports of the negative impact of the Dong Nai 6 and 6A projects to the Prime Minister; Chairman of the National Assembly Committee of Science, Technology and Environment and related ministries on May 9.
Subsequently, the Duc Long Gia Lai Group, who is seeking permission for construction of the two plants, sent a response to the provincial People's Committee on May 25.
However the document provided several incorrect data. For instance, the Group affirmed that the Dong Nai 6 and 6A Plants are located outside the Cat Tien National Park, which is contradictory as 132 hectares of the project is targeted in core area of the park.
So far neither the Ministry of Natural Resources and Environment nor any other authorized organs have approved the two projects.
The Group has based the plan on national electricity development plan for the phase 2011-2020 to set up their projects as well as on environment impact reports.
According to the Duc Long Company, the two plants will occupy 372 hectares of forest land. This does not include a leading road to the plants, construction site, and offices and houses for the investor, contractor and execution units of the projects.
Besides, construction of a power transmission line from the plant to the national electricity grid will run across tens of kilometers of primeval forest of Cat Tien National Park.
As a result, the cleared forest area will be much higher than reported by the Duc Long Gia Lai Group.
Related article:
SGGP findings contradict Hydropower Plant Report