Nguyen Thanh Tri, deputy chairman of the People's Committee in the southern province of Dong Nai, said that the provincial government is objecting to building of the Dong Nai 6 and 6A Hydropower Plants because of negative impact to biodiversity, culture, historical values and the daily livelihood of local residents.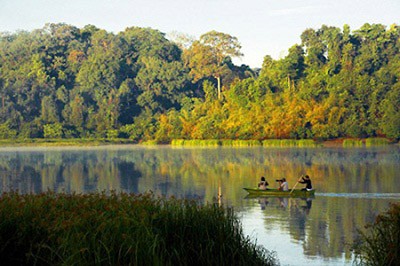 The serene natural landscape of Cat Tien National Park will disappear if the 6 and 6A Hydropower Plants are built
The People's Committee of Dong Nai Province had sent an official request to the Prime Minister and relevant ministries asking them not to permit the projects from being carried out.
The Standing Party Committee of Dong Nai Province will also send a similar request to the Politburo and the Secretariat of the Central Party Committee.
According to Mr. Tri, the province had raised objections to the projects since the beginning, when they were put forward, because they found that the investor Duc Long Gia Lai Group did not have any international or national expertise to implement the projects.
"Duc Long Gia Lai Group, investor of the project, does not have any knowledge of conducting surveys, studying environmental impact reports and submitting a sound proposal for the projects," he said.
 
The 900,000 hectare Dong Nai Biosphere Reserve, including Cat Tien National Park and Tri An Hydropower Plant, were recognized as world biosphere reserve areas in June 26, 2011.
Construction of the Dong Nai 6 and 6A projects will affect 173 hectares in core areas of the World Biosphere Reserve. As a result, the investor should seek permission from the United Nations Educational, Scientific and Cultural Organization (UNESCO) to carry out the projects.
Besides, last month Prime Minister Nguyen Tan Dung had approved of the Cat Tien National Park as a special National Relic, which is protected by the Cultural Heritage Law.
For several years Dong Nai, Binh Phuoc and Lam Dong Provinces had submitted documents to UNESCO asking for recognition of Cat Tien National Park as a World Natural Heritage Site, as called for by the Prime Minister. The implementation of the two above projects will work against the Prime Minister's wishes.
The investor had hired the Southern Institute for Water Resources and Planning and the Institute of Natural Resources and Environment under the Ho Chi Minh City National University to conduct the environmental impact report for the 6 and 6A Hydropower Plants.
The report contained many discrepancies and much of the data was falsified so as to make the project seem appropriate.
The projects have been assessed too cursorily with several contents opposed to the UNESCO'S Man and Biosphere Program (MAB) which Vietnam is part of.