People's Committee in the southern province of Dong Nai yesterday set up a steering board to help farmers sell bananas.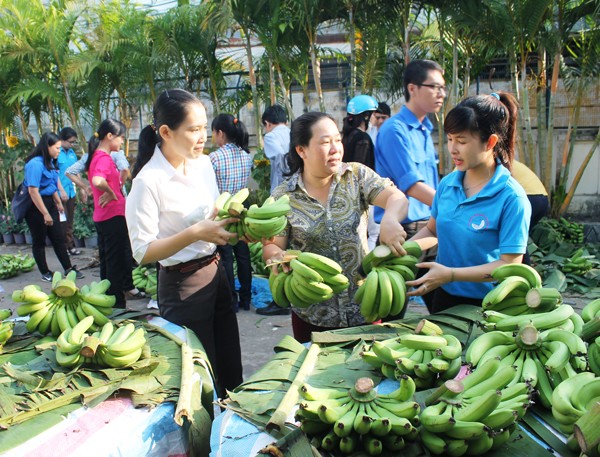 Banana is sold by young people (Photo: SGGP)
At a meeting with related agencies and departments Deputy Chairman Vo Van Chanh assigned the head of the Department of Industry and Trade and leaders of the department of Agriculture and Rural Development, Farmer Association, Young Communist Union, Labor Union and district people's committees to join the board.

Mr. Chanh said that farmers increased areas for growing the fruit without guideline  and its consequence that banana price fell to unprofitable which proved that governments and relevant agencies omitted their responsibility.

Accordingly, he ordered administrators to check areas for growing banana in the districts and the quantity of the ripe fruit and then help them to consume the fruit.

The steering board must report the People's Committee about the consumption.

For weeks, the Youth Association in the province and student groups in Ho Chi Minh City helped farmers to sell nearly 400 tons of bananas through the campaign " Chuoi nghia tinh" ( Loving bananas) as well as call for help from the community. Subsequently, just 17,000 tons of bananas is left in the province.
Related article:
Youth Association helps selling 150 tons of bananas for Dong Nai farmers