Residents in the southern province of Dong Nai have raised objection against a local woman, who they say was given a license by authorities to dredge springs to prevent flooding but was in fact exploiting and dredging sand.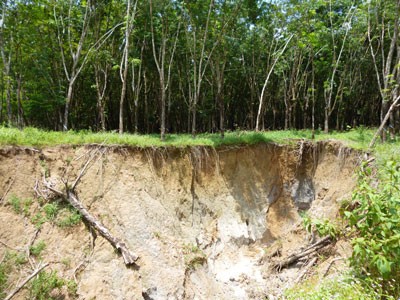 Illegal dredging of sand has caused landslides along the edge of a rubber plantation in Long Thanh District of Dong Nai Province (Photo: SGGP)
Residents of Bau Can and Phuoc Binh Communes in Long Thanh District of Dong Nai Province have sent petitions on this issue to Sai Gon Giai Phong Newspaper.
They say that the woman has used her license to dredge sand illegally from Can and Ca Springs, which has caused landslides along farming land areas.
In June 2009, the People's Committee of Long Thanh District proposed to the provincial People's Committee to issue a license to a woman named Nguyen Ngoc Le for dredging the Can and Ca Springs in Bau Can and Phuoc Binh Commune so as to prevent flooding.
After she received the license, she was permitted to dredge the springs till a maximum depth of three meters and width of four meters only. However, Le's workers have dug upto 10 meters in both depth and width, with the intention of dredging sand.
Local people say that the license was not issued sensibly, as in their commune and other neighboring communes there is hardly any flooding at all.
Le's exploitation of sand has caused huge erosions along the Thai Hiep Thanh Rubber Plantation and farmland areas of local residents.
Though residents in Bau Can Commune said they have reported the matter to district authorities, who have promised to ask the province authorities to revoke Le's license, no firm action has been taken so far.