The Standing Party Committee of the southern province of Dong Nai has asked the Politburo to intervene in stopping the construction of the Dong Nai 6 and 6A Hydropower Plants.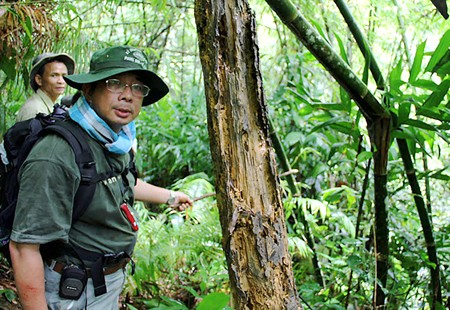 Scientists survey the ecosystem in Cat Tien National Park where the Dong Nai 6 and 6 A Hydropower Plants have been planned (Photo: SGGP)
According to the committee, if construction of Dong Nai 6 and 6A Hydropower Plants on the upper reaches of Dong Nai River takes place, there will be immeasurable and irreparable damage to the environment.
The eco-system in the Dong Nai River valley and Cat Tien National Park will be severely impacted and the diversity and rich flora and fauna and forest cover of the entire area will be destroyed.
The worst scenario will be the changing of the current course of the Dong Nai River which will directly affect the Bau Sau wetlands, recognized as a Ramsar site by the international treaty of the Ramsar Convention.
At present, the United Nations Educational, Scientific and Cultural Organization (UNESCO) plans to assess the conditions at Cat Tien National Park to decide if it can be recognized as a World Natural Heritage Site. On September 27, the Prime Minister ranked the National Park as a special National Relic.
There is also a tremendous amount of fear among the local residents that the construction of both the 6 and 6A Hydropower Plants will increase flooding during the rainy season and bring about severe drought in the dry season, affecting the livelihood and cultural lives of all the people and financial losses for agriculture and seafood farming in the lower reaches of Dong Nai River.