The administration in the Mekong Delta province of Dong Thap has asked authorities to step up measures to protect residents and over 26,000 hectares of rice crops from rapidly surging floodwaters on September 27.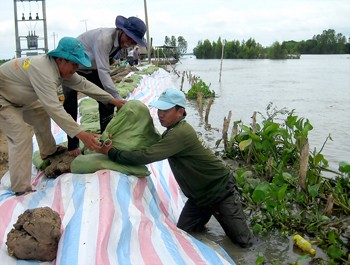 People fortify a dyky section in Tan Hong District, Dong Thap Province on Sep. 27, 2011 (Photo: SGGP)
Floodwater levels in the upper reaches have risen even further with gushing high tide waters raising levels by 6-17cm per day in many parts of the province.
Floodwaters are already overflowing over some sections of Highway 30, causing the Tra Du Bridge on road 841 to collapse, inundating several houses in Tan Hong and Tam Nong districts and causing landslides along the banks of the Tien River.
Provincial authorities have mobilized 1,000 people including police, army officials and soldiers to cope with the surging waters in the southern border districts of Tan Hong, Hong Ngu and in Hong Ngu town.
Duong Quoc Nghia, deputy head of the flood and storm prevention center in the province said that although they have reinforced the dyke system, the floodwaters are surging so rapidly that the dykes are again under threat. Over 8,000 hectares of rice crops in Tan Hong District are in danger of being submerged any time.
5,500 students from 36 schools including nursery, primary and secondary levels have been shuttered in Hong Ngu District and Hong Ngu town as a safety measure.
On September 27 many dyke sections were heavily damaged in the province. One part of the dyke along the route near Duoi Tom village of Tan Ho Commune in Tan Hong District burst, inundating 355 hectares of rice crops. Local authorities had to call upon 600 people to dam the broken section which was finally repaired after almost 20 hours.
Adding to the woes, prolonged heavy rain throughout the evening of the same day made floodwaters rise even further and caused a breach along part of the dyke system.