Dong Thap Province in the Mekong Delta plans to develop eco-tourism, and exploit its available resources to highlight its cultural and historical diversity by investing almost VND1,786 billion (US$85 million) in its tourism industry.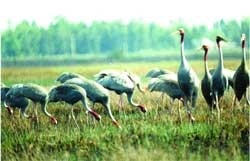 Birds of a feather: Wading birds such as storks, herons and cranes are a common sight at Tram Chim National Park (Photo:VNA)
The province has over 10 islets scattering across its districts and several historical, cultural and revolutionary relic sites such as the Nguyen Sinh Sac relic site, Xeo Quyt relic site, monument of Go Quan Cung-Giong Thi Dam that it plans to exploit as part of its marketing strategy.
Moreover, ancient relics like Go Thap relic; Buu Lam pagoda; Huynh Thuy Le ancient house; ancient houses in Sa Dec town and Hong Ngu district, will bring to light a diversity of rich cultures.
The province intends to focus on investments in the more important tourism sites such as the Go Thap relic site; Xeo Quyt tourism site; Gao Giong eco-tourism area; Nguyen Sinh Sac relic site; Tram Chim National Park and the Sa Dec flower village.
The province will also expand and develop tourism services, entertainment activities, tourist accommodation facilities and focus on developing convenient midway stops on tourist routes.
In addition, the province will invest in new tourist areas such as the Project Water Rice Cultural Site, Project Tien River Resort, Project GAO Giong Eco-park, Project Mekong-Phu SA Eco-tourism site on An Hoa Islet.
By 2015, Dong Thap Province expects to welcome 2.1 million tourists and reach a turnover of VND360 billion ($17 million).