Australia, Denmark, and the United Kingdom have co-signed an agreement to further support a Vietnam program for water supply and sanitation with a total financial commitment of US93 million.
Representatives of the three countries' governments co-signed the joint financing arrangement with the Vietnamese Ministry of Agriculture and Rural Development to support phase 3 of Vietnam's National Target Program for Rural Water Supply and Sanitation (NTP 3).
The total financial commitment is equal to more than VND1,900 billion.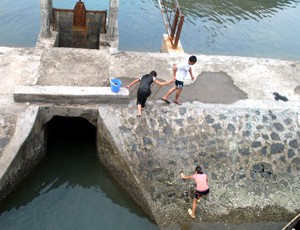 (Illustrative photo) File photo shows local residents at a reservoir in the semi-arid province of Ninh Thuan on Vietnam's central coast. (Photo: Tuong Thuy)
"Joint donor support to NTP Phase 3 demonstrates our strong determination and long term commitment to improve the livelihoods of the rural poor in Vietnam through provision of clean water and sanitation services," Mr Michael Wilson, the Australian Agency for International Development's Mekong and Regional Minister-Counsellor, said in a statement.
According to the third phase's three donors, the stage's key targets include 85% of the rural population have access to hygienic water; 65% of rural households use hygienic latrines; 45% of rural households have hygienic livestock pens; and most rural schools, kindergartens, health clinics have access to hygienic water and hygienic latrines, which are fully functioning and well managed.
Phase 2 (2006 – 2010) of this program was completed with joint financial support of US$142 million from Australia, Denmark, the Netherlands and the UK, in addition to the Vietnamese government's own budget to this program.
So far, the program has helped provide access to clean water for 75% of the rural population, and 51% of rural households now have hygienic latrines, according to the donors.
The donors add that despite significant achievements, many poor households do not have access to clean water and hygienic toilets, and many schools and clinics are still lacking these very basic facilities.
Therefore, the donors call for more intensive efforts, saying such efforts are critically needed to ensure that the full benefits of the water and sanitation schemes and the services so far made possible by the program are realized.