The World Environment Day theme selected for 2006 is Deserts and Desertification and the slogan is Don't Desert Drylands! The main international celebrations of the World Environment Day 2006 will be held in Algeria; and the city of Algiers, where lies the world's largest desert, the Sahara, will host this United Nations day.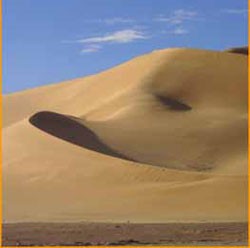 The Sahara

2006 also marks the 10th year since the UN Convention to Combat Desertification (UNCCD) has come into force with around 200 member nations, of which Viet Nam is the 134th member.

According to the UN Environment Program (UNEP), land degradation and desertification are some urgent problems facing most nations in the world. Land degradation affects one third of the Earth's land surface and endangers the health and livelihoods of over a billion people, more than one in every seven people on the planet.

Noticeably, desertification in vast areas of arid or semiarid land and even wetlands is caused not only by climate change, but also human-induced factors such as increasing population and human activities.

Every year, around 11-13 million of hectares of forests are cut down and dozens of million hectares of land are degraded and deserted, seriously devastating ecosystem and environment. It is estimated that desertification and droughts cause an annual damage of around US$42 billion of food productivity, not to say human losses caused by starvation from billions of dryland dwellers.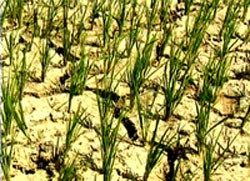 Drought is one of urgent environmental problems of Viet Nam
The UN Secretary General Kofi Annan gave a message to call for collective action to combat global desertification: "Desertification is hard to reverse, but it can be prevented. Protecting and restoring drylands will not only relieve the growing burden on the world's urban areas, it will contribute to a more peaceful and secure world. It will also help to preserve landscapes and cultures that date back to the dawn of civilization and are an essential part of our cultural heritage".

According to the head of UNCCD Office in Viet Nam, Mrs. Nguyen Thi Minh Thoa, the Vietnamese people's livelihoods are being negatively affected by around 9.3 million hectares of deserted land, including 7.3 million hectares of empty land and 2 million hectares of degraded land. Once again, the slogan Don't desert drylands! should be raised to save our soil.