Heavy rains continued across central Vietnam Saturday and Sunday, triggering flash floods while more rains are forecast in the next one or two days.
Provinces from Quang Binh to Binh Dinh and the Central Highland have seen river water levels fast rising.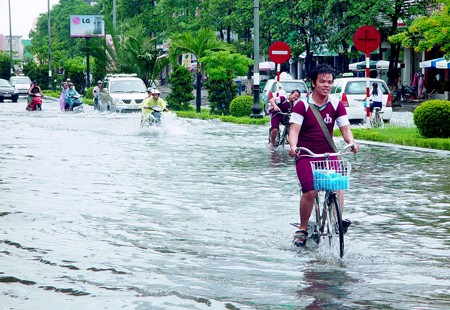 Nguyen Van Linh Street in Danang City flooded on Saturday 23, 2011 (Photo: Nguyen Hung)
Many low areas were already submerged Saturday.
The national weather bureau forecast that the central region would suffer from serious floods. There are also fears of landslides.
Central Vietnam is prone to flash floods triggered by heavy rains.
The country has witnessed downpours and flooding in August and September 2011. The Mekong Delta in the south is these days coping with floodwaters from the Mekong River said to be worst over the past nine years.