Dr. Nguyen Van Bo, chief of the Vietnam Academy of Agricultural Science, has been named to a newly-established international consensus on sustainable agriculture and climate change, created to confront threats to global food security.
The international group of 13 experts was launched Mar 11. They come from Australia, Brazil, Bangladesh, Britain, China, Ethiopia, France, Kenya, India, Mexico, South Africa, the United States and Vietnam.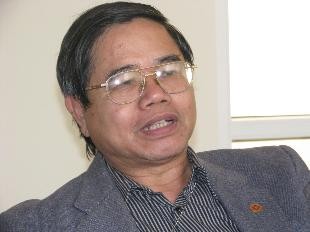 (File) Dr. Nguyen Van Bo
The Commission on Sustainable Agriculture and Climate Change is chaired by Britain's Chief Scientific Adviser, Professor Sir John Beddington.
The new commission is an initiative of the CGIAR Research Program on Climate Change, Agriculture and Food Security (CCAFS), with additional support from the Global Donor Platform for Rural Development.
The commission will in the next ten months seek to build international consensus on a set of policy actions to help global agriculture adapt to climate change, achieve food security and reduce poverty and greenhouse gas emissions, CGIAR said Friday.
The Consultative Group on International Agricultural Research, or CGIAR, is a global partnership that unites organizations engaged in research for sustainable development with the funders of this work.
The commission brings together senior natural and social scientists working in agriculture, climate, food and nutrition, economics, and natural resources.

In February, the World Bank reported that the recent rise in food prices – which included a doubling of wheat prices and a 73 percent increase in maize prices – has already pushed an extra 44 million people into poverty.
The commission has been set up by the CCAFS, a 10-year effort launched by the CGIAR and the Earth System Science Partnership. ESSP was established in 2001 to promote cooperation for the integrated study of the Earth system, the changes that are occurring to the system and the implications of these changes for global sustainability.
Besides being chief of the Vietnam Academy of Agricultural Science, Dr. Bo is currently a member of the Policy Advisory Council of the Australian Centre for International Agricultural Research.