A company has taken advantage of a policy to clean out the harbor Loc An in the southern province of Ba Ria – Vung Tau to dredge sand for profits. This has threatened nearby resorts with land erosion.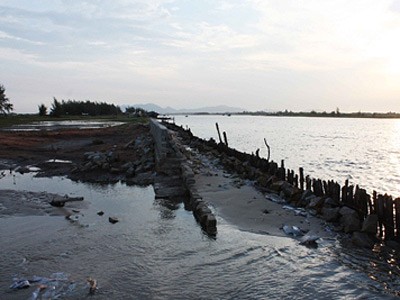 A corner of H&T resort has been swept away to sea (Photo: Nguoi Lao Dong)
Local businesses have complained about serious land slips along the harbor in Loc An, Dat Do District, which could sweep away resorts worth some millions of dollar.
The resorts are situated in the intersection between Ray River and Loc An harbor, which has raised the levels with sand.
However, too much sand there has prevented boat and other marine transport from travelling. Accordingly the People's Committee granted permission to Phuoc Luan Co. to dredge two sections of the canal, at a length of two kilometers.
The company was also given the green light to sell sand for construction material as compensation for dredging costs but is under supervision by relevant agencies.
Phuoc Luan Company at first used dredging ships but later the company utilized 15 bigger overseas-built ships without telling the local government.
Nguyen Thi Con, director of Lang Chai – Loc An resort, said she had spent a lot on the resort yet the resort is at risk of land erosion.
Previously, My My Company had petitioned the People's Committee to implement measures against illegal sand dredging, as it destabilized infrastructure and housing in the resort.
People living near land-slides keep worrying about their lives and properties.
A resident, Nguyen Van Re, was angry and fearful about further land slides in the area, with local people besieging the ships to stop them working. Residents have reported the problems to the local government many times but the local government seems to have no measures against these illegal acts.