A petrol tanker suddenly burst into flames at the Ngan Su gas station in Trung Hai village in Ky Anh District in the central province of Ha Tinh while gas was being pumped from it, causing the driver to suffer serious burns and two petrol filling tanks at the station to also burn down.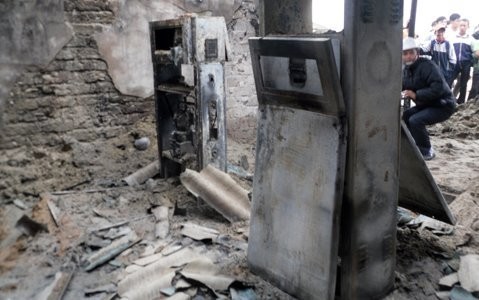 Two petrol filling tanks completely charred in the incident on March 28
The incident occurred at 10am on March 28. The driver of the tanker tried to quickly drive the burning tanker away from the gas station, but panicked and swerved off the road hitting into a house.
He then jumped out of the tanker and attempted to remove the pump to prevent the tanker from exploding, but suffered from serious burns. Local residents rushed him to the Ky Anh General Hospital for emergency treatment.
On the same day, a mother and her 4-year-old daughter in Quynh Ba Commune in Quynh Luu District in the central province of Nghe An suffered burns in a blaze when their house caught fire.
The incident occurred after an electric black out. Pham Chinh, Pham Thong's brother, ran downstairs to get oil to light a lamp. But he mistakenly brought the gas tank instead of the oil tank.
When Thong struck a match so that Chinh could pour oil into the traditional lamp, he caught fire. Chinh dropped the gas tank in panic and the fire spread throughout the house.
The blaze spread to the bed where Thong's wife and daughter, Nguyen Thi Hue and Pham Thi Thanh Thao were sleeping.
Despite all efforts to extinguish the fire and rescue the mother and daughter, they suffered from serious burns and the entire house was reduced to ashes.