This year saw a significant drop in the number of road accidents and traffic violation cases during the first three days of Tet Lunar New Year, reported the Ministry of Public Security on January 25.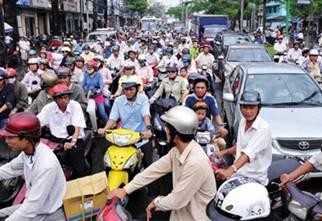 File photo
During the first three days of Tet Lunar New Year, 115 and Cho Ray hospitals in Ho Chi Minh City received 526 cases of traffic accidents, with four reported deaths.
According to the city hospitals, the number of traffic accident cases showed a decline as compared to last year, but the number of brain injury cases showed an increase.
Viet Duc Hospital in Hanoi received more than 300 patients during the first three days of Lunar New Year, of which 170 received emergency treatment for injuries from road accidents.
Hanoi's 115 Emergency Centre received many patients for medical treatment for road injuries, food poisoning and cerebro-vascular problems caused by intense cold weather.
On January 25, Prime Minister Nguyen Tan Dung asked relevant ministries and departments to immediately implement specific measures to prevent and reduce traffic accidents, traffic congestion and ensure traffic safety during the Tet Lunar New Year Festival days.
The PM also asked relevant agencies to strengthen patrolling, inspecting and handling of traffic and transport violation cases, especially on city roads and waterways.
Nearly 1,400 people died or were injured in road accidents in the last month of 2011, a 25 percent drop, while during the same period in 2010 there were a reported 2,000 traffic accident cases.
The drop in the number of road accidents can be attributed to the deployment of a greater number of police officers in different parts of the country, with about 60 policemen in 14 provinces and cities using hi-tech equipment such as speed cameras and breath analysers during ' Traffic Safety Month' held in December 2011.
Last year saw a larger number of traffic violation cases, about 377,000 cases, in which police officers impounded over 800 cars and nearly 45,000 motorbikes.