The prolonged heat and dry weather conditions have slowed the cultivation of summer-autumn rice crop in the central region, which is facing a lack of water for irrigation and being threatened with a severe drought.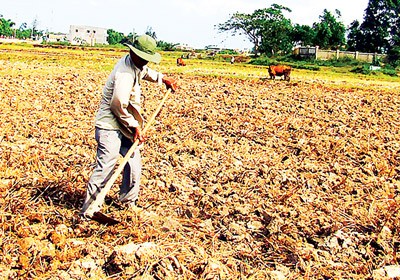 Drought is holding up the cultivation of summer-autumn rice crop in Dien Ban District of Quang Nam Province (Photo: SGGP)
Though it is time to begin cultivation of the new rice crop in the region, several areas in the lower reaches of Vu Gia River are facing serious drought conditions due to the continued hot and muggy weather and because hydropower plants are not yet releasing water into the river.
Huynh Van Thang, deputy director of the Department of Agriculture and Rural Development in Da Nang City, said that more than 3,000 hectares may face a dire shortage of water to cultivate the next summer-autumn rice crop.
These areas depend on water from the Dong Nghe and Hoa Trung reservoirs, whose levels are already below danger levels.
Nearly 100 hectares of rice and vegetable area in Hoa Quy Ward in Ngu Hanh Son District rely completely for water on the Tu Cau pumping station in Dien Ban District of Quang Nam Province. However the station has so far not even operated for the last two weeks due to high salinity.

Le Van Sam, deputy director of the Da Nang Irrigation Management Company, said they have tried to maintain the machinery of the pumping station in top shape and are also finding ways to tackle the drought.
Similar conditions prevail in Quang Nam Province, with several hectares of rice fields unable to be cultivable due to water shortage and salt intrusion in pumping stations.
According to the department of agriculture in Dien Ban District, the Vinh Dien River has a high density of salt penetration, hampering the Tu Cau Pumping Station from functioning.
Irrigation officials in the district are on standby to begin pumping water to the rice fields whenever salinity levels go down. As of now, almost 250 hectares of rice fields are lying parched.
The 19/5 and the Xuyen Dong pumping stations in Duy Xuyen District are encircled by salt intrusion, putting more than 1,000 hectares of rice farming area in Nam Phuoc town, Duy Phuoc and Duy Vinh Communes in severe shortage of irrigation water to begin the new rice crop cultivation.
According to Nguyen Dinh Nien, director of the Irrigation Management Company in Quang Nam Province, the worst salt penetration is at the Tu Cau and Cam Sa pumping stations, which is affecting the irrigation of about 400 hectares of rice fields.
The Irrigation Management Company has installed a makeshift station at the Phu Loc Reservoir in Duy Xuyen District and are working with the provincial People's Committee to dredge canals to drain water from the Thu Bon River to Vinh Dien District, at a total cost of VND1 billion (US$48,000).
Huynh Van Thang, deputy director of the Department of Agriculture and Rural Development in the province, said if hydropower plants in the upper reaches of the Vu Gia River don't release high volumes of water then drought conditions will prevail and rice growers in Da Nang and Quang Nam Province will be the sufferers.