Drought in the Tay Nguyen (Central Highlands) region has seriously affected farming and the lives of local residents in the region.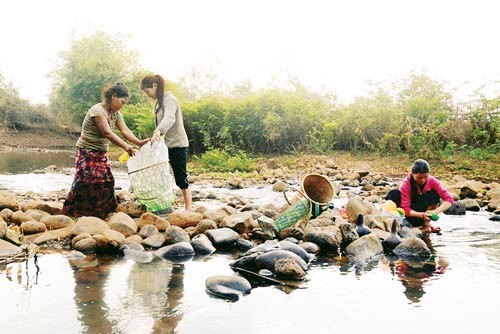 Residents at HVet 1 Hamlet in Ayun commune of Chu Se District in the central highlands province of Gia Lai take water from Pet stream for daily use - Photo: SGGP
About 180,000ha of rice, crops and other trees in the provinces of Đắk Lắk, Đắk Nông, Kon Tum, Lâm Đồng and Gia Lai have faced a shortage of water since the middle of this month, according to the Ministry of Agriculture and Rural Development (MARD).
Trần Trung Thành, deputy director of the Tây Nguyên Centre for Hydrometeorology Forecasting, said the ongoing El Nino phenomenon was the most extreme of the last 60 years and it would cause a record drought in the Highlands.
"The peak of the drought will occur in early April," he said.
The region's rainfall between December 2015 and February 2016 has fallen by 40 per cent against the same period last year, according to the Tây Nguyên Centre for Hydrometeorology Forecasting.
The water levels of most reservoirs in the region have fallen by 15-35 per cent compared to the average of many years.
More than 35 rivers and springs and 40 per cent of small reservoirs have dried up.
The region has also faced a shortage of daily use water, with Đắk Lắk being the hardest-hit province as it has about 25,000 affected households.
People in Đắk Lắk have drilled wells and built dams to take water.
Phạm Quang Mười, head of the Cư M's gar District Agriculture and Rural Development Bureau in Đắk Lắk, said the district had spent VNĐ500 million (US$22,000) to drill five wells to supply daily water for local people.
Drip irrigation
Several farmers in Đắk Lắk have invested in drip irrigation to water coffee trees.
Y Cal, who has used the method for his orchard in Đắk Lắk's Krông Pắk District, said: "This has saved more than one-third of irrigation water. It does not cause erosion and it makes the fertiliser more effective."
MARD has instructed the Đắk Lăk Department of Agriculture and Rural Development to work with departments and agencies to set up irrigation models.
It has also asked credit organisations to provide soft loans for those who invest in irrigation models.
In Gia Lai Province, more than 11,300ha of rice, pepper, coffee and other trees have been affected by drought.
Nguyễn Thị Đựng in Gia Lai's Mang Yang District said her more than 500 coffee trees and 3,000sq.m of rice had been abandoned because of a lack of water.
"The spring has dried up so I cannot plant crops," she said.
Phạm Ngọc Cơ, head of the Mang Yang District Agriculture Bureau, said many farmers had sold their buffalos, cows and goats because they feared their animals would die.
More than 2,000 households in Gia Lai's Kông Pa and Chư Sê districts face a severe shortage of daily use water.
The districts' local authorities have bought tanks to transport water to local people.
As of March 10, drought had caused damages of about VNĐ100 billion ($4.5 million) in Gia Lai Province, according to the provincial People's Committee.
Gia Lai and Kon Tum have petitioned the Government to provide financial support to recover agricultural production.
Lâm Đồng Province has encouraged people in drought-prone areas, mostly in Đạ Tẻh, Đạ Huoai and Cát Tiên districts, to dig ponds and small reservoirs to store water.
K' Đình, a Châu Mạ ethnic in Đạ Huoai's Phước Lộc Commune, and four other neighbouring households have dug a pond to provide water.
The Đạ Huoai People's Committee plans to dig 27 ponds and small reservoirs but local people have registered to dig a total of 39.
The ponds and small reservoirs have an area of 500 -2,000 sq.m each. A 500sq.m pond can provide irrigation water for 4-5 ha of plants.
Lâm Đồng Province will pay 30 per cent of the cost of digging ponds and small reservoirs.
Trịnh Xuân Thuỷ, deputy chairman of the Đạ Huoai People's Committee, said: "Digging ponds and small reservoirs has been effective."
Currently, only 30 per cent of the region's farming areas have been provided water from irrigation works, according to MARD.
The region has a mountainous terrain, so it is difficult for the region to keep rain water and underground water, said experts.
Central Highlands provinces have told farmers to use irrigation water thriftily and switch to drought -resistant crops in areas far from rivers and springs.
The Tây Nguyên Region Steering Committee has asked provinces to give priority to daily use water for people, especially ethnic minorities.
The provinces have also petitioned the MARD to speed up major irrigation projects to prevent and control drought over the long term.
Forest fire threats
Many forests in Tây Nguyên provinces are also at risk of fire, and are at the fourth and fifth warning levels, according to the Tây Nguyên provinces' sub-departments of forest protection.
Nguyễn Hữu Hải, deputy chairman of Kon Tum Province People's Committee, said more than 100,000ha of the province's 540,000ha of forest were at high risk of fires.
Kon Tum had prepared 5,000 people who would be available to fight fires, he said.
The Tây Nguyên Region Steering Committee told provinces to strictly implement measures to protect forests and prevent fires, especially in forested areas at the fourth and fifth warning level.
The ongoing drought is expected to last until June, according to MARD.