The southern region has undergone a long dry and hot period with moisture drop and without rains causing water shortage in the upper reaches of the Mekong River and drought in the lowlands, reported the National Hydro Meteorological Forecasting Center at a meeting in Hanoi yesterday afternoon.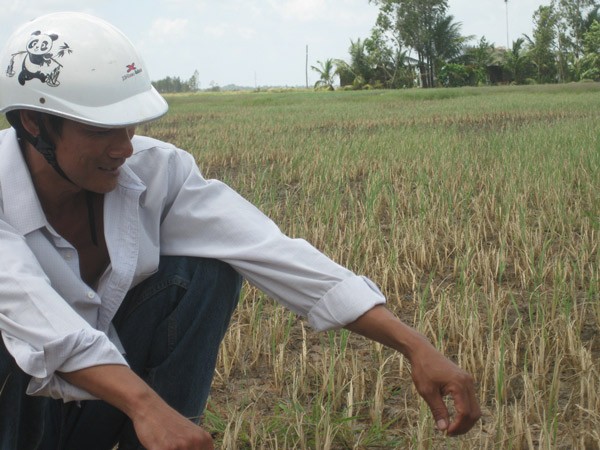 Salt intrusion damages many rice fields in Soc Trang province (Photo: SGGP)
That is under influence of the El Nino cycle that is forecast to prolong until May-June this year.
In the upcoming months, drought and salt penetration might hit records and seriously affect production and residents' lives.
The central and southern regions and the Central Highlands will face drought worse than last year when the worst heat wave occurred in six decades.
This year drought has rolled in one month sooner than previous years. El Nino has caused rainfall reduction and water level reduction at many reservoirs in the south central region and the Central Highlands.
Deputy of the Irrigation General Department Nguyen Van Tinh said that salt intrusion has expanded over wide areas in the Mekong Delta.
Meantime the northern region yesterday suffered a wide range cold spell, reported the center. The Gulf of Tonkin and the East Sea have been rough and choppy with strong winds.