This dry season, lasting from December 2006 to May 2007, may see severe drought due to the effects of the pattern of El-Nino, this according to the National Hydrometeorology Forecast Center.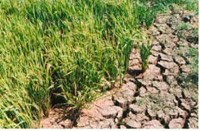 This dry season is forecast to be severe
Headstream waters of the Mekong River have fallen to a record level, 10 to 14 centimeters less than the average level of the corresponding period.
The river's volume is current said to be 20 to 40 percent less than that of the previous year's flow, which could cause severe water shortages for crop irrigation from February to April 2007.

Localities have been warned to be ready so that they may take the necessary steps to properly manage their water supply in order to avoid a widespread drought.