Most Ho Chi Minh City government agencies reported very high satisfaction levels among people with their functioning last year, but it turns out that only a tiny sample was surveyed and feedback almost completely ignored.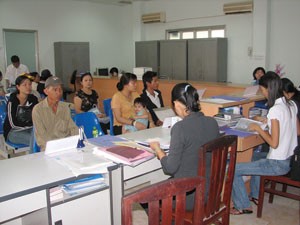 Citizens wait for their turn to submit or collect applications in HCMC.
In the fourth quarter last year, the Tan Binh district People's Committee reported a satisfaction level of 80-97% from questionnaires filled out by the public.
The respondents were reportedly pleased with the services and officials' attitudes in all areas including land registration.
But only around 0.6 percent of the 228,740 applicants completed and submitted the questionnaires.
The Thu Duc district office received only 100 forms in contrast to the tens of thousands of land-related applications it received last year.
Similarly, district 7 recorded over 95% for the first two quarters but based on just 1.5% of respondents.
A Thu Duc official told Sai Gon Giai Phong that such surveys were made during the "season" when feedback forms were printed and distributed to the offices.
"When applicants come, they [government employees] push forms into their hands and who dares say bad things?" the official asked.
"If left to their own devices, they simply do not bother to fill any form or pick them up merely to use as wrapping paper," he added sardonically.
Just for show?

Le Si Nguyen, who has been running from pillar to post to complete the paperwork for his house in Thu Duc, said: "Feedback forms are just for the sake of show. Our work is not done even after meeting officials in charge."
He complained it was the office personnel themselves who collected the questionnaires and estimated the satisfaction level, and thus had a vested interest.
Worse still is that feedback practices are ignored by both the public and authorities.
Your correspondents visited a Go Vap district office one morning and saw hundreds of people milling there while a single box for complaints and suggestions, rusted and covered in dust, lay ignored in a corner. Inside was a single white envelope.
Asked where to get a feedback questionnaire, an employee said, "There used to be some forms over there but since the board [on which to place the forms] was broken, I have not seen them".
We approached two other officials and one of them smiled and said there were no forms now. "We only have them when authorities have them delivered."
At district 3, Sai Gon Giai Phong was met a scowl for asking about feedback.
"Who are you? How long have you been waiting here that you want to comment?" asked a frowning employee.
He later went inside and emerged five minutes later with a piece of white paper on which he told us to write whatever we wanted to.
He then instructed us to drop the paper in a letter-box at the entrance that said "For Constructive Opinions". However, the box's bottom fell away when we touched it, revealing nothing inside except some dust.