Leftover food waste is a threat to our environment and risk to human health, said Nguyen Van Phuoc, President of the Institute of Environment and Natural Resource.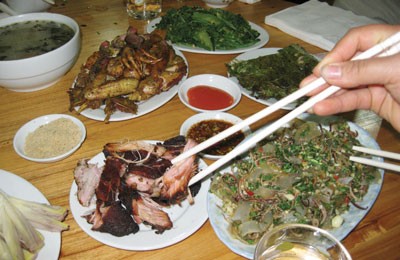 Leftover food waste is a threat to our environment and risk to human health (Photo: SGGP)
When one throws leftover food into garbage bins, some of this may be contaminated with heavy metals and raw sewage which is a risk to human health as food grown uses this contaminated waste and water to germinate.
Phuoc affirmed that human waste dumped untreated in water systems greatly contributes to polluting the water source.
Results monitored by Vietnam Environment Administration at the end of 2012 found a high presence of fecal coliforms in Saigon, Dong Nai, Nha Be Rivers and in the canal network in urban and suburban districts. One of the main reasons for this pollution was attributed to food waste.
Many diners in restaurants in Parkson, Hung Vuong, Nowzone, Co.op Ly Thuong Kiet, and Victory or at wedding parties in Ho Chi Minh City often leave food on their plates. Some restaurants put this food waste into large containers and sell to cattle breeders who use it to mix with animal feed later. Yet others throw food scraps into dustbins or sidewalk eateries dump food waste along roads.
The United Nations Food and Agriculture Organization (FAO) said around 1.3 billion tons of food are lost or wasted every year around the globe, equivalent to one-third agricultural produce. Meantime, one out of seven people live under starvation and 20,000 children die of starvation every day.
FAO thus encourages people to make an effort to reduce food waste by simplifying meals and buying only necessary food from supermarkets.
In the future, related agencies and authorities in Ho Chi Minh City will enhance propaganda to raise people's awareness of saving food and reducing waste.
The City will also encourage restaurants, commercial hubs, resorts and supermarkets not to waste food and throw away scraps.
If every person joins hands to keep the environment waste free, the results will be there for all to see.