Dynamite explosions at the construction site of the Srepok 4A Hydropower Plant have cracked the walls of 17 houses in Krong Na Commune of Buon Don District in the central highland province of Dak Lak.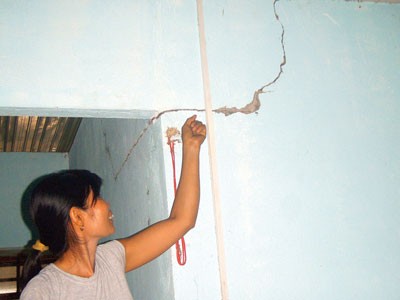 Some houses in Krong Na Commune in Buon Don District of Dak LakProvince have cracks in their walls after the dynamite explosions (Photo: SGGP)
Nguyen Van Thinh's house in E Ma Village is located only 200m from the dynamited area. The strongly built concrete house was built in 2011 but soon after the explosions over the last three months, cracks have appeared on the ceiling and walls.
Thinh said that the explosions send his family fleeing from the house because mortar and debris falls inside and furniture shakes vigorously.
Another local man Nguyen Dinh Thinh is also suffering the same fate. A 2m crack has occurred in his house which may well collapse his house at any time.
Chinh's house is the worst affected with a 2m crack and several 1m cracks running along the walls. She had saved for ten years to build this house and is afraid that the recurring explosions will collapse her only home.
Similar conditions prevail in E Rong A and E Rong B Villages in Krong Na Commune.
Execution units of the Srepok 4A Hydropower Plant said that they have followed the right techniques that had been approved by authorized organs and the explosions were more than 200m from residents' houses and therefore could not have caused the cracks.
Nguyen Van Duyen, deputy head of the Economics and Infrastructure Department in Buon Don District, said that they have examined and affirmed that several houses have suffered cracks caused by dynamite explosions in E Ma District.
The district will continue to examine the cracked houses and work with execution units to tackle this issue, he said.