Tran Anh Tuan, deputy chairman of the People's Committee in Bac Tra My District in the central province of Quang Nam, has suggested to the investor of Song Tranh 2 Hydropower Plant to provide financial assistance to people who have been left with damaged property from recurring earthquakes.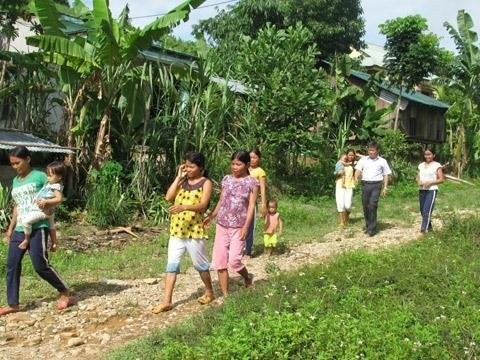 Local residents rush out of their homes because of recurring earthquakes in Bac Tra My District of Quang Nam Province on Oct. 22, 2012.
Mr. Tuan was speaking at a meeting with the Hydropower Project Management Board No.3, the main investor of the plant, and discussed with them ways to compensate residents for damages caused by earthquakes in the district.
He proposed that the Hydropower Project Management Board No.3 conduct surveys to estimate the damage to residents and in the district.
The compensation amount suggested for cracks in a house was VND2-4 million and for cracks in a public building to be VND30 million.
Financial assistance would be released in two phases. In the first phase, owners of damaged houses will receive 50 percent of the fund. After they repair their house, the investor will examine and release the remaining 50 percent.
The investor should also assist in repairing damaged public works under supervision of the Compensation-Resettlement Board of the Song Tranh 2 Hydropower Plant.
Deadline to give financial assistance has been set for November 30, Tuan said.
The Hydropower Project Management Board No.3 said that they will transfer Tuan's proposal to the provincial People's Committee and Vietnam Electricity.
According to initial statistics of Bac Tra My District, earthquakes have cracked 857 houses and seven public works in Tra Doc, Tra Tan, Tra Bui and Tra Son Communes and Tra My Town since September this year.
Besides, Tra Giang and Tra Giac have also suffered damages but have not officially reported as yet.
Related articles:
Residents fear earthquakes, set up camps in forest
People living near cracking dam request early warning on earthquakes