Measures to settle disputes in the East Sea peacefully and avoid conflicts on the basis of equality and respect of sovereignty and territorial integrity were discussed at an international seminar in Hanoi on Sept. 21.
At the seminar entitled, "Cooperation for regional peace, security and development in the new context", almost 80 experts from China, the Philippines, Malaysia, Singapore, Japan, Taiwan and Vietnam discussed the strategic position of the East Sea, new developments in the East Sea and its impacts on regional peace and security.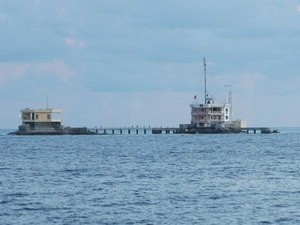 An island of Truong Sa archipelago in the East Sea (Vietnam News Agency file photo)
Solutions to maintain peace, security and development in the region with a focus on building trust, managing conflicts and cooperating in non-traditional security fields in the new context were also high on the agenda of the seminar.
To resolve disputes in the East Sea, they said peaceful negotiations though time-consuming are the suitable measure and the interests of concerned nations must be ensured in the process.
The negotiations must be based on foundations such as international laws, including the 1982 United Nations Convention on the Law of the Sea, as well as the Declaration on the Conduct of Parties in the East Sea towards building the Code of Conduct in the East Sea, they said.
The experts proposed expansion of the regional network to attract experts from other countries to study and exchange views on related issues and including the more issues in the East Sea into discussions in the ASEAN+3 framework.
Three major issues relating to the East Sea – territory, security and economics – can be resolved one by one but must be placed in a general context and considered in relation to history, psychology and the emphasis of scholars' role, they noted.
They suggested the disputes could be solved by choosing shared interests for cooperation and confidence building, along with goodwill and the pursuit of positive implementation.