A delegation led by Deputy Prime Minister Nguyen Sinh Hung has participated in the 16th World Economic Forum (WEF) on East Asia to discuss economic, political, scientific and technological matters facing East Asia while studying global development trends with the goal to improve Viet Nam's policy-making process.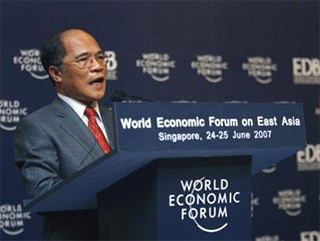 Deputy Prime Minister Nguyen Sinh Hung speaks at the forum
Leaders of 10 top Vietnamese businesses are taking part in forum activities, establishing relations and promoting foreign investment in the country.
 
The two-day forum, which opened in Singapore yesterday, is a chance for Viet Nam to promote its image as a dynamic country that is reforming radically and promising many business opportunities.
 
The country has attracted special attention from participants at recent WEF forums, and as a result, organizers will hold a "Viet Nam" luncheon to emphasize the Vietnamese element in key sessions.
 
WEF is considering holding the 2009 East Asia forum in Viet Nam.
 
Viet Nam first attended WEF in 1989 and has since partaken in the annual Davos meeting in Switzerland and the East Asia forum. In January 2007, Prime Minister Nguyen Tan Dung became the first Vietnamese government leader to participate in the annual WEF meeting.
 
The forum focused on leadership in an Asian Century during the first day and has brought together over 300 business, government and civil society leaders from 26 countries to discuss current challenges facing East Asia.
 
According to the forum's organizer, the two-day meeting will explore in depth the many facets of the region's economic, social and political transformation.
 
The major discussion content includes risk management for Asia's prosperity; what will happen if Asia is hit by a second financial crisis; Asian input in orienting changes in globalization; economic, political and business transformation to Asia; energy security with the region's integration process; stable growth in Asia; and main factors of Asian competitiveness.
 
Under the theme "The Leadership Imperative for an Asian Century," the WEF is being held in partnership with the Singapore Economic Development Board.