Last year macroeconomics continued growing highly and stably, inflation was under control and businesses' production and trading became more stable and advantageous considerably increasing worker salary, said head of the Wage and Labor Department Tong Thi Minh on Tuesday.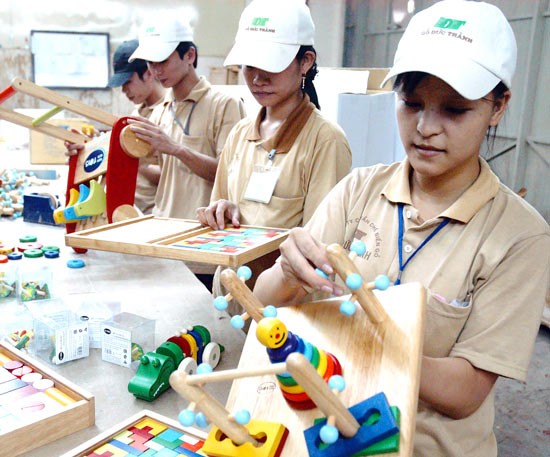 Production of wooden toys at Duc Thanh Company (Illustrative photo: SGGP)
She was speaking at a conference hosted by the Ministry of Labor, Invalids and Social Affairs in Hanoi to announce a survey, which covers 13,178 businesses using 2.4 million employees from 63 provinces and cities on worker salary last year and Tet bonus this year.
According to the survey, gross domestic product growth reached 6.68 percent last year, higher than the set target of 6.2 percent. Of these industry and construction posted the best growth. Social worker productivity by current prices was estimated to hit VND79.3 million (US$3,657).
Those all sent worker salary on up trend averaging VND5.53 million (US$247) a month, up 8 percent over the previous year.
At the top of the salary increase list is state owned enterprises with VND7 million a month. Private firms paid VND4.99 million and foreign direct investment (FDI) enterprises VND5.47 million.
Those working in industry and construction fields comprising garment and textile, footwear and handbags enjoyed the highest salary increase level of 11 percent thanks to stabl,e order volume.
Some industries such as rubber and oil and gas suffered a reduction; revenue and profit drop due to the world's price fluctuations.
Specifically, rubber industry's salary reduced 4-5 percent and companies' under the Vietnam Oil and Gas Group fell 3-5 percent, Ms. Minh said.
According to the ministry, solar year bonus averaged VND1.18 million a person, up 1.6 percent. The highest reward hit VND2 billion (US$89,000) from an FDI firm in HCMC.
Lunar New Year bonus averages VND5.53 million, a year on year increase of 15.7 percent. The biggest amount totaling VND624 million (US$28,000) went to a person in an FDI firm from the northern province of Hai Duong province.
The lowest level was VND40,000 also by FDI firm from the southern province of Binh Phuoc.
At present, 14 businesses in eight provinces and cities still owe 2,300 workers with VND16.5 billion (US$736,000) of salary. About 1,700 enterprises will not offer Tet bonus or has not had any reward plan about it.