The fourth session of the 12th National Assembly opened today in Hanoi with delegates set to discuss the current social and economic situation and targets for next year.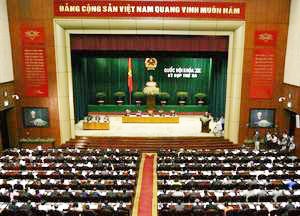 The 4th session of the 12th National Assembly starts in Ha Noi today
After the rapid growth of the past two years, the economy has slowed down this year, a government report to be delivered at the session said. 
GDP growth for 2008 is estimated at 6.5-7 percent but the average growth for the 2006-2008 period would still be 7.8 percent, the report said.
GDP per capita has risen to US$1,000 while the Government's revenue for the year is expected to top VND399 trillion (US$24 billion), up 26.3 percent.
Since the country became a WTO member last year, its exports have grown 21.9 percent in 2007 and an estimated 33.9 percent this year.
 
The government will remain focused next year on reducing inflation to a single digit by 2010, stabilize the macro economy, and maintaining a reasonable growth rate.
An appropriate GDP growth target for next year would be 6.5 percent, Phung Quoc Hien, chairman of the Financial and Budgetary Committee of the National Assembly, said.