Vietnamese expatriates have great knowledge and intellectual skills to offer the country but the Vietnamese Government has yet to adopt polices to effectively exploit them, delegates said November 22 at the ongoing Overseas Vietnamese Conference in Hanoi.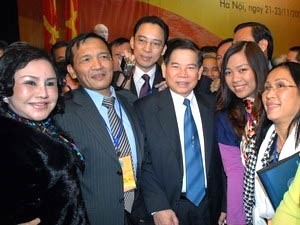 President Nguyen Minh Triet (middle) poses with Viet kieu at the first Overseas Vietnamese Conference being held in Hanoi from November 21 to 23
They called for setting up a mechanism to attract the economic and mental resources the expatriates have to offer and an organization to provide information and support to overseas Vietnamese coming to the country to work.

Deputy Minister of Science and Technology Le Dinh Tien admitted that existing policies are not attractive enough.

His ministry and the Ministry of Foreign Affairs have recently submitted to the Prime Minister a plan to attract and encourage overseas Vietnamese experts and intellectuals, he said.

The plan spells out measures and policies to attract experts and encourage overseas Vietnamese to invest in activities involving transfer and application of technologies and teach Vietnamese language and culture to young Vietnamese expatriates, he said.

A database on Vietnamese expatriates living around the world would also be set up, Mr. Tien said.

Two programs with a focus on preferential treatments, salaries, and employment terms for Viet kieu (overseas Vietnamese) would be piloted and an annual forum would be held with overseas Vietnamese intellectuals to advise the Government on policies, he added.

Nguyen Canh Son, vice chairman of the Overseas Vietnamese Business Association, said the cumulative income of overseas Vietnamese is US$50-60 billion, and they have invested $2 billion in the country.

The association would help local and overseas Vietnamese entrepreneurs meet, exchange business information, and collaborate, he added.

Pham Van Thanh, chairman of the Association of Overseas Vietnamese Entrepreneurs in Canada, said there may not be many overseas Vietnamese millionaires but there are many with assets worth $500,00 to $1 million who want to buy houses or run small businesses in Vietnam.

Many Viet kieu want to return home to live but hesitate because the Government does not have concrete policies to encourage them to return, he said.

Besides, the country's investment environment remains risky and complex due to the myriad administrative procedures, he said.

To encourage them to invest in the country, he said, the Government should ensure they can repatriate their money if they do not want to stay any longer, he added.

Some delegates said the Government should ensure policies that are announced -- like creating favourable conditions for Viet kieu to buy houses, scrapping superfluous procedures, and implementing a "single door" policy -- are scrupulously implemented.
Related article:
First overseas Vietnamese conference to unite whole nation