A project to reduce fumes from motorbike fuel exhausts has been prepared by the Vietnam Registry Department and is expected to be submitted to the Prime Minister by the Ministry of Transport by the end of this year.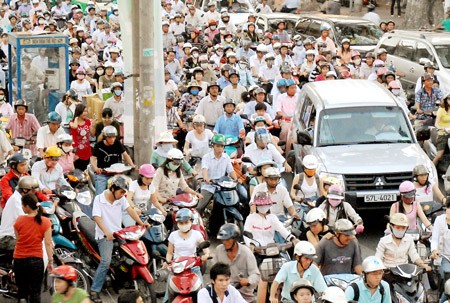 Exhaust fumes from motorbikes has worsened environment pollution in HCMC (Photo: SGGP)
Trinh Ngoc Giao, head of the Vietnam Registry Department, said that the department has sent their project report to the Ministry of Transport for submission to the Prime Minister.
According to the project, the department will stamp motorbikes that meet requirement levels in exhaust fumes from July 1 next year.
Motorbike shops will coordinate with registry centers to examine motorbikes that release excessive amounts of exhaust fumes--or at least far above permissible limits. Motorbikes that have not been stamped will be penalized.
Vietnam presently has 36 million motorbikes registered and the project will first be implemented in five of the larger cities, namely, Ho Chi Minh City, Hanoi, Da Nang, Hai Phong and Can Tho.
In the first year of its implementation, the project will conduct checks of all motorbikes that are ten-years-old. In its second year, bikes that are seven-years-old will be checked and in the third year, bikes that are five-year-old will undergo checks. However, in the fourth year, all motorbikes irrespective of age will be checked.
All new motorbikes will have to undergo a thorough check after the third year and thereafter once a year.
By 2013, the department will try to implement the project as scheduled, so as to improve the environment in the above cities.
Several people are annoyed with so many motorbikes belching out large amounts of unhealthy exhaust fumes, particularly from bikes designed to accelerate with more power and to go faster.
Mr. Giao said that manufacturers have designed such bikes to prevent floodwaters from flowing into the bike and causing engine failure, particularly in urban cities where flooding from high tide and in the storm season inundates the streets.
These bikes are just meant to perk up in power and speed but do little to help the environment and are an annoyance to the general public as they blast black soot into people's faces, especially those unfortunate enough to be travelling behind.
Vietnam Registry Department has met with motorbike manufacturers to ask them to stop producing such perked up engines since the beginning of 2011.
However the department has not been able to deal with the already assembled motorbikes on the market as they not authorized to penalize their manufacturers.
Under the project, Vietnam Registry Department will initiate more action and ask manufacturers to replace the already perked up bike engines with ordinary ones.