Egypt plans to expand its cooperation with Viet Nam to all fields, particularly trade and investment, culture, and science and technology.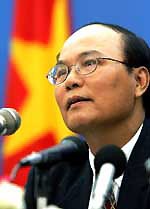 Mr. Le Van Bang
Egyptian Foreign Minister Ahmad Abu Al-Gheit affirmed this policy in his recent reception to Ambassador Le Van Bang, special envoy of the Vietnamese Foreign Ministry, who is visiting Egypt from January 12-14.
The Egyptian FM also stressed his Government's consistent policy that places importance on the traditional rapport with Viet Nam .
For his part, Ambassador Bang expressed thanks to the Egyptian Government and people for their fine sentiments to the Vietnamese people in the struggle for national liberation in the past and the national construction at present.
He said he hoped to see stronger developments of the two countries' relations to match with the two sides' potentials.
During his stay in Egypt , Mr. Bang had working sessions with senior officials from the Egyptian Foreign Ministry and relevant agencies to discuss measures to boost bilateral ties and exchange experiences in multilateral diplomatic activities.